Key Scripture
". . . casting all your care upon Him, for He cares for you" (1 Peter 5:7) Are you currently worried about some issue in your life?  I believe that there are at least three things that we need in our lives instead of worry.
It is imperative that we replace worry with worship.  When our eyes are fixed on the Lord, everything else pales in comparison to Him.  It is more difficult for anxiety and fear to overcome us, when our thoughts are occupied with the Lord and His goodness.  Isaiah 26:3 declares, "You will keep [the one] in perfect peace, whose mind is stayed on You, because he or she trusts in You."
 We must replace worrying about situations with seeking God for wisdom.  Such wisdom is always granted to the one who asks for it in faith (James 1:5-8).  Wisdom involves seeing things from God's perspective, seeing things as they really are.  Seeing things from God's perspective combats fear in our lives because when we do so, we immediately realize that God is more than able to handle our problems.
Finally, we need to displace our fears and anxieties with the vast arsenal of weapons given to us by God.  We are told in 2 Corinthians 10:4 that "the weapons of our warfare are not carnal (or earthly), but mighty in God for the pulling down of strongholds."  Ephesians 6 encourages believers to "put on the full armor of God."  We are equipped with everything that we need to survive in these perilous times.  We must therefore, appropriate God's provisions through prayer and through obedience to the Scriptures.
May you experience God's peace and strength all day.
A DEEPER EXPERIENCE OF GOD'S PEACE
God desires to bring peace, healing, and restoration to his people in powerful ways.  I invite you to check out my book 
In Pursuit of Wholeness: Experiencing God's Salvation for the Total Person
. I believe that this resource will help you to approach the Lord with greater confidence to receive his peace and the abundant blessings.  Follow the link or more information on this resource.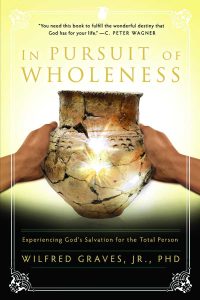 Blessings, Wilfred Graves Jr.
www.wilfredgraves.org
Quick Links
–
Download the WGM mobile app.
–
Watch sermons and teachings from Dr. Graves.
–
Donate online.
DAILY INSPIRATION ARCHIVE